Bird Watching and Wildlife
Blessed with pristine landscapes of singular beauty, Patagonia Argentina is home to the most incredible and diverse wildlife. A perfect link of steppe, semiarid mountain forests, endless plains and extensive coastline is the scene of some unique displaysof nature in all its glory. Birdwatching and wildlife is an exciting experience in Patagonia. National and Provincial Parks, reserves, the excellent state of the species and its climatic conditions make the region a haven for hundreds of mammals and birds that can be observed in their natural habitat. The watching experience can be enriched in centers of interpretation and nature research. One of them is Ecocentro, in the city of Puerto Madryn in Chubut. Overlooking the stunning blue ocean, this research center provides educational and recreational activities to learn to understand and care for the Patagonian marine ecosystem and sea life.
Whales, a moving encounter
Between June and December, the arrival of the Southern Right Whale in the province of Chubut dazzles visitors with all the simplicity of a unique natural spectacle. Declared Natural Monument for its preservation, this magnificent mammal shamelessly shows his gigantic tail hitting strong on the waters of Nuevo gulf. An amazing display that invites the traveler to live the Patagonia Argentina. Different tours depart from Puerto Pirámides Peninsula Valdes – site declared a World Heritage Site by UNESCO- to witness a show like no other. The Doradillo, at only 15 km from Puerto Madryn, is considered one of the best places in the world to see whales. There, whales return every year to give birth to their offspring.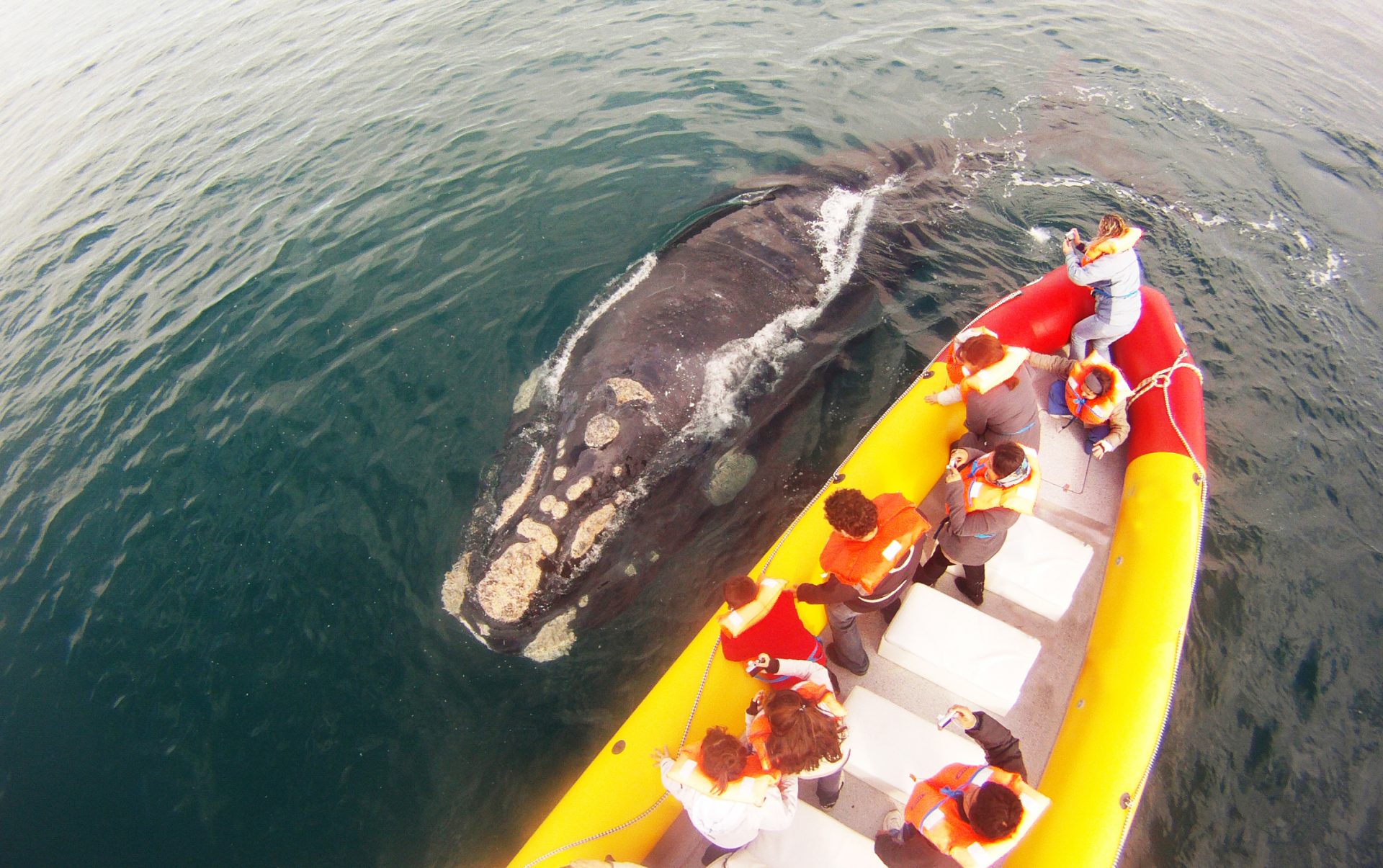 The charm and variety of Patagonian marine wildlife
Elephant seals and sea lions also have a starring role in Patagonia, with colonies of shags and elephant seals. Reserves, restricted natural areas and National Parks ensure their protection. In Chubut, marine life is an endless spectacle: acrobatic dolphins and panda dolphins reveal their magic to boats designed for this purpose. Sea lions and elephant seals can be watched from the cliffs, orcas from the coast of Punta Norte and in September thousands of penguins invade Punta Tombo and Cabo Dos Bahías, where they remain until mid- March to lay their eggs and raise their offspring. This combination makes this site a unique place in the Patagonia Argentina. The Monte Leon National Park, along the Atlantic coast in the province of Santa Cruz, invites traveler to observe the extraordinary specimens of Patagonian coastal marine fauna. Also in Santa Cruz, about 180 thousand penguins gather in the Provincial Virgin Wildlife Reserve Cabo Vírgenes, a Magellanic penguin breeding site. In the province of Rio Negro, Punta Bermeja Natural Protected Area was created to preserve a section of the coast in which the first colony of one hair sea lions in Patagonia is located.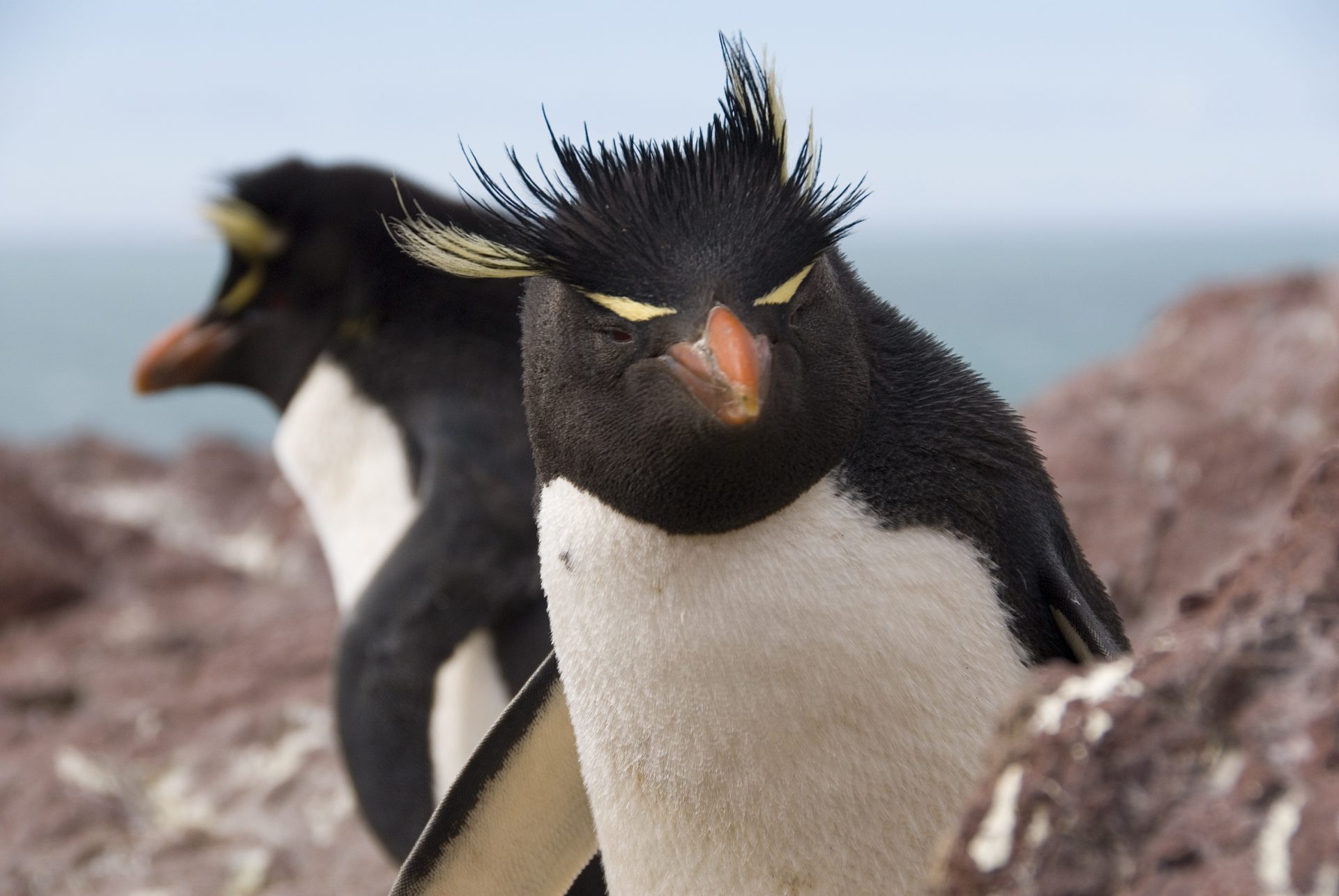 Deer's reign in the Patagonian nature
Getting close to deers is a unique opportunity provided by nature in Patagonia Argentina. And doing it during rutting season, when males conquer their females, is even more impressive. Dawn and dusk are ideal times to see deer running below the immensity of Patagonian skies. A precious site is Parque Luro Nature Reserve in the province of La Pampa, just at 35 km from Santa Rosa. The only reserve of caldén forest in the world is home to large populations of red deer that can be spotted during rutting season.
Perfect habitat for birds
Patagonia Argentina is like a real orchard for birds. Four biogeographical regions offer a highly favorable scenario for bird watching in the province of Neuquén: to the east, the Patagonian steppe and semi-arid mountain; to the west, Magellanic forests and Andean steppes. Neuquén gathers over 250 species of birds in excellent condition. L
esser rheas
in the steppe, grebes, speckled ducks, diving ducks and geese inhabit lakes and ponds, close to forests populated by woodpeckers and humming birds. Flying condors, black vultures and
Black Buzzard-eagles
are some examples that can be spotted on tours guided by professional ornithologists in Neuquén. Also, in the province of La Pampa, 250 species of birds, including gray hawks and yellow cardinals can be spotted in the Lihué Calel National Park and Natural Reserve Parque Luro. Further south, in Tierra del Fuego, the Beagle Channel, the Staten Island and its natural reserves are unique places where ibises and flamingos, southern petrels and terns can be observed. Rio Negro Province has a settlement of more than 121 species of seabirds, coastal and terrestrial and Antarctic birds, cormorants, terns,
Black Buzzard-eagles
, bustards, partridges, herons and rheas, among others. Here the world's largest burrowing parrot colony is also located. In San Antonio Bay, migratory birds – plovers and sandpipers – make rest stops between Tierra del Fuego and the Northern Hemisphere. These beaches have been declared a Site of International Importance in the Western Hemisphere Shorebird Reserve Network.