Countless silent lakes, rivers, ponds, streams and the extensive Atlantic coast of Patagonia Argentina make this destination a privilege site for fishing. Patagonian waters have ideal conditions for fishing in its various forms. Depending on the area, there exists the possibility of fly casting, spinning or trolling in the middle of the exciting nature of the South. In perfect harmony with nature, cottages, resorts, inns and hotels provide  warm welcome and shelter. The fishing lodges also offer facilities, fly tying, exclusive settings and specific services to enjoy the best of fishing. In different Patagonian destinations, bilingual fishing expert can be hired together with the equipment. Famous for their size and wild state, trouts, such as rainbow, brown, brook and steelhead trout, stream and silver trout, landlocked salmon and Pacific salmon fascinate lovers of this sport in the waterways of Patagonia. Also native species such as perch and Patagonian silverside are very attractive options in the area. Sharks, sea bass, bream, stingrays, bat fish and soles complete a unique offering in the warm waters of the Atlantic coast. Season and permissions: The fishing season mainly runs from November until mid-April or May. However, sport fishing on the Atlantic coast and in some rivers of Patagonia can be practiced throughout the year. Patagonian waters are protected and controlled to ensure athletes excellence and quality of resources, this is the reason why in most areas permits are mandatory and portable. They are available at each of the locations in the provincial tourism offices or in stores designated for such purpose. The catch and release method is practiced in most of Patagonia, but there are specific areas in some provinces where catches can be made.
La Pampa
In the province of La Pampa, sport fishing has excellent locations: Anchorena, Don Tomas, Don Justo, Santa Teresa, the Miauco and La Dulce lagoons in Eduardo Castex. There, species such as smelt, catfish, and tararira may be caught during season which runs from early November to late August. In Colorado River, the season starts in December and ends in late May, allowing the capture of trout (rainbow or brown), perch and silversides, always respecting the maximum allowed quantities in each case. It is also possible to capture specimens of common carp throughout the year in some aquatic environments.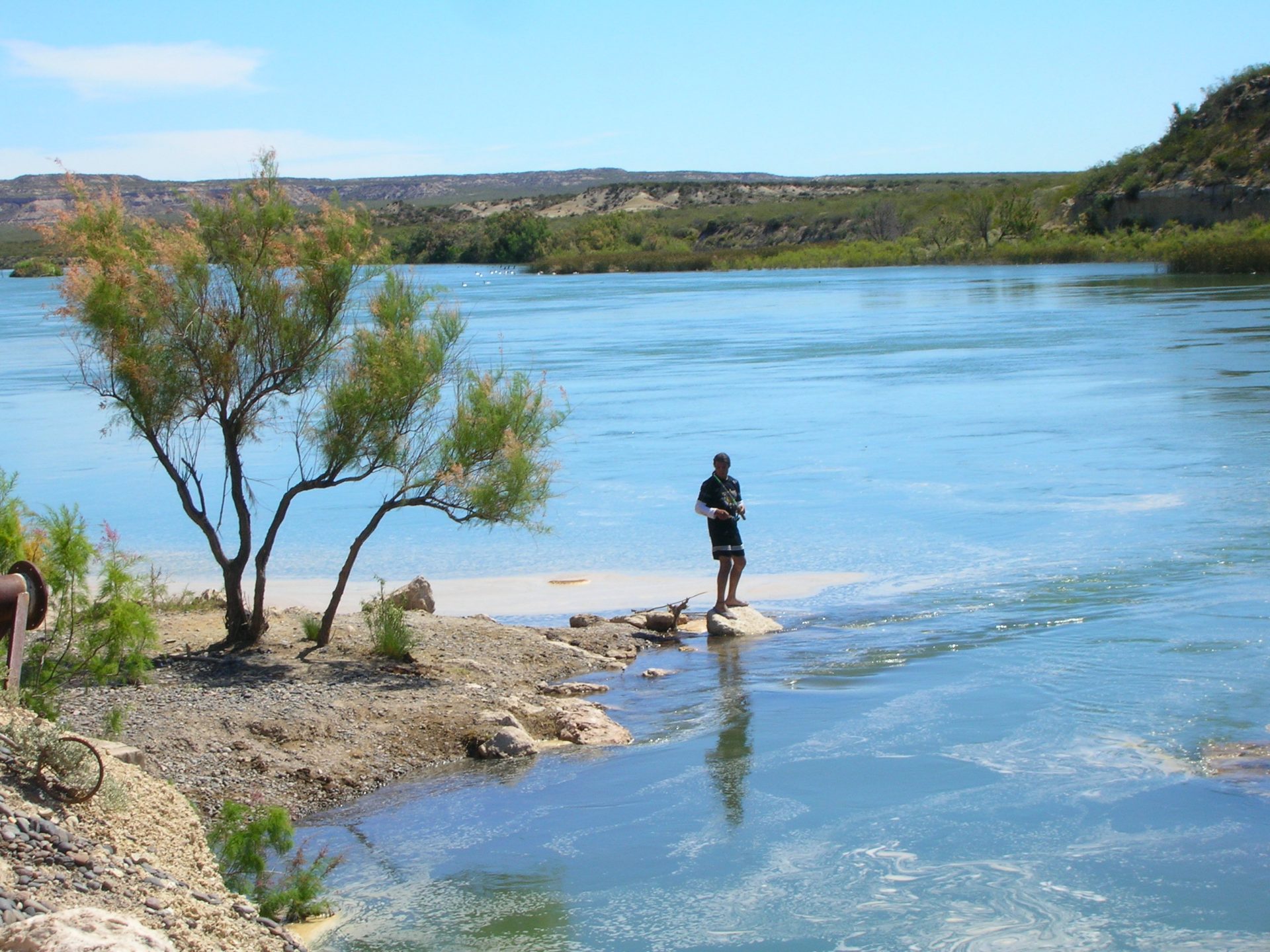 Neuquén
The mouths of the rivers Chimehuín, Correntoso and the mouth of the Limay River and the CollonCura, Caledon , Quillen , Malleo , Aluminé, Pulmarí, Traful and RucaChoroy rivers are home to wild rainbows, brook and brown trouts. These waterways have gained international recognition and are a must for lovers of sport fishing. To the north, the Trocomán, Reni Leuvu, Trolope, Nahueve rivers and Varvarco Lagoon are excellent venues thanks to the amount of catches made during the season. The peacefulness of Huechulafquen, Tromen,TrafulPaimún, Aluminé, Nahuel Huapi and Lologlages, among others, captive fishermen in every fishing season in Neuquén.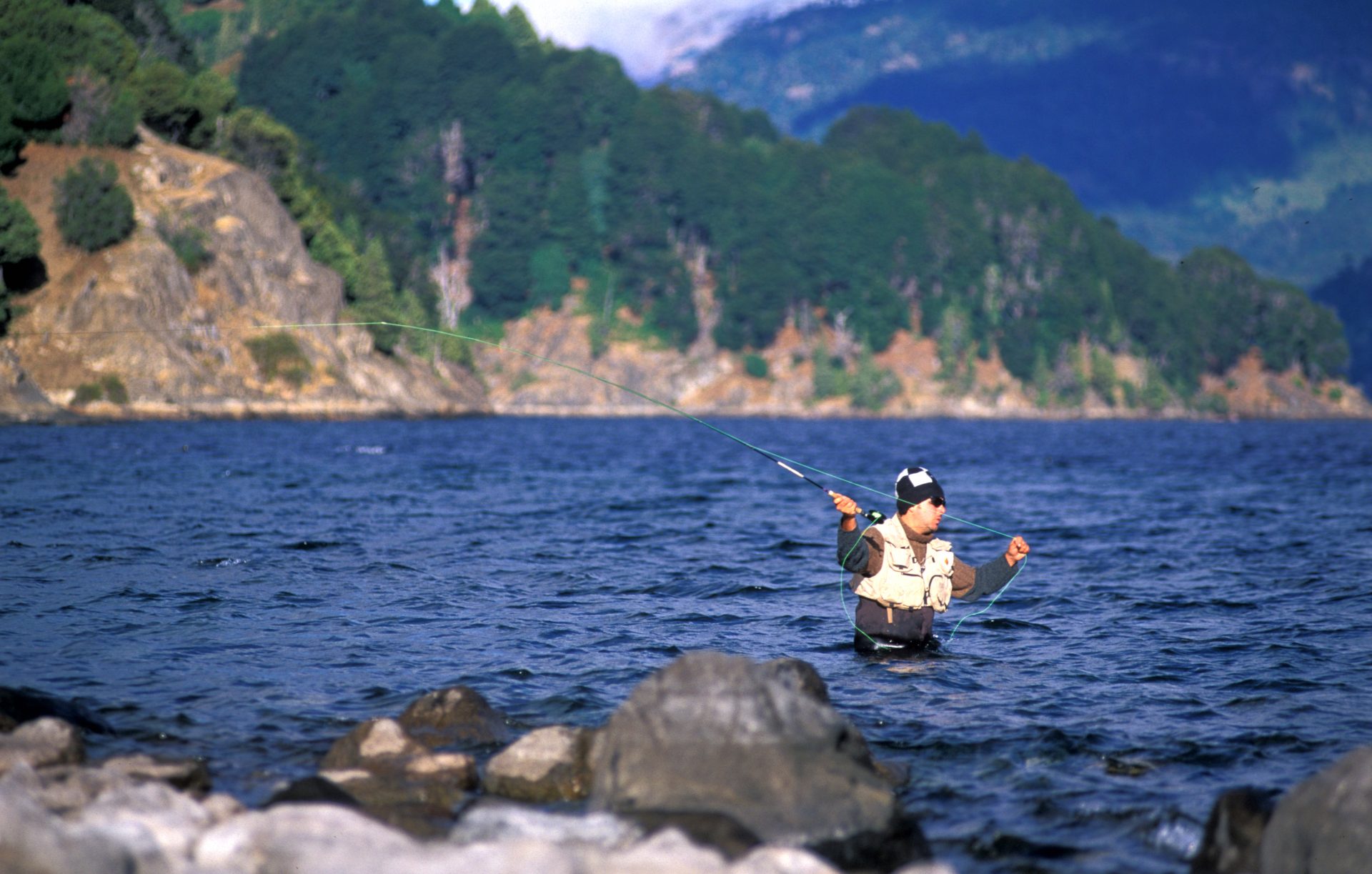 Río Negro
The mountain is the strategic center of a network of rivers and mountain lakes easily accessed by sport fishermen. Fed by melt snow water from the upper basin to the sea, Negro River is one of the most important waterways of Patagonia, a 1,000 km fishing corridor that meets the most diverse expectations. The Atlantic coast with warm waters is a privileged environment with over 400 km long coastline where fishing is available from the shore or one boat. In the steppe, Valcheta stream is ideal for catching rainbow trout and the Maquinchao basin offers trouts and mackerels. The streams born in foothills that flow into the steppe are ideal for dry fly and light equipment.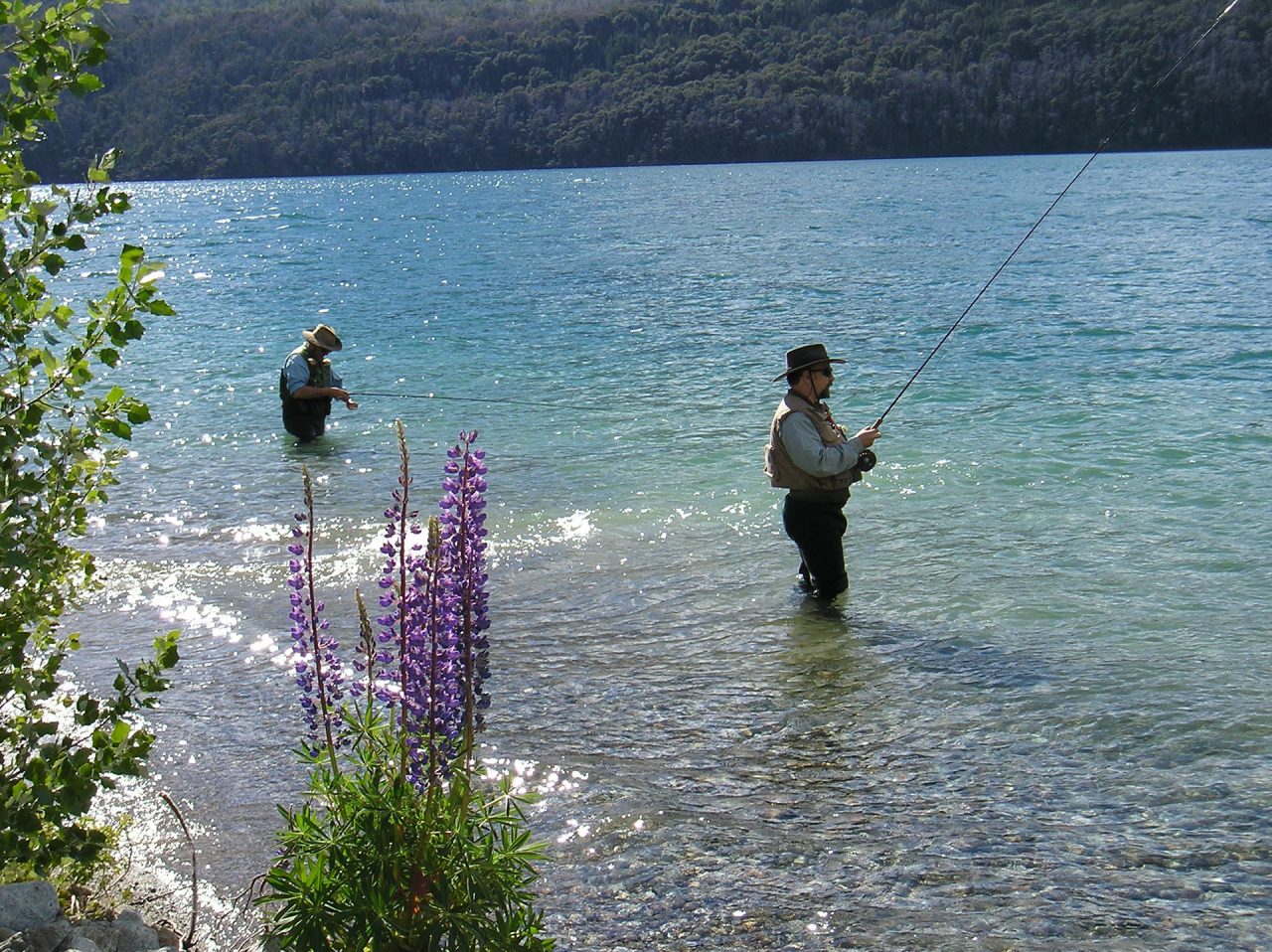 Chubut
A wide variety of wild trout: rainbow trout, brown trout, landlocked salmon and brook trout and Pacific salmon specimens can be found in the most pristine environments in the province of Chubut. The Puelo lake in the Region of Parallel 42; The Maitén and Chubut river; Los Alerces National Park with its Rivadavia river coming from Cholila through Carrileufu river or from Esquel and Trevelin through the Futaleufu River; Corcovado River, the region of Pico River, high River Senguerr to La Plata lake or even Ameghino Dam are some of the most significant sites to enjoy this sport.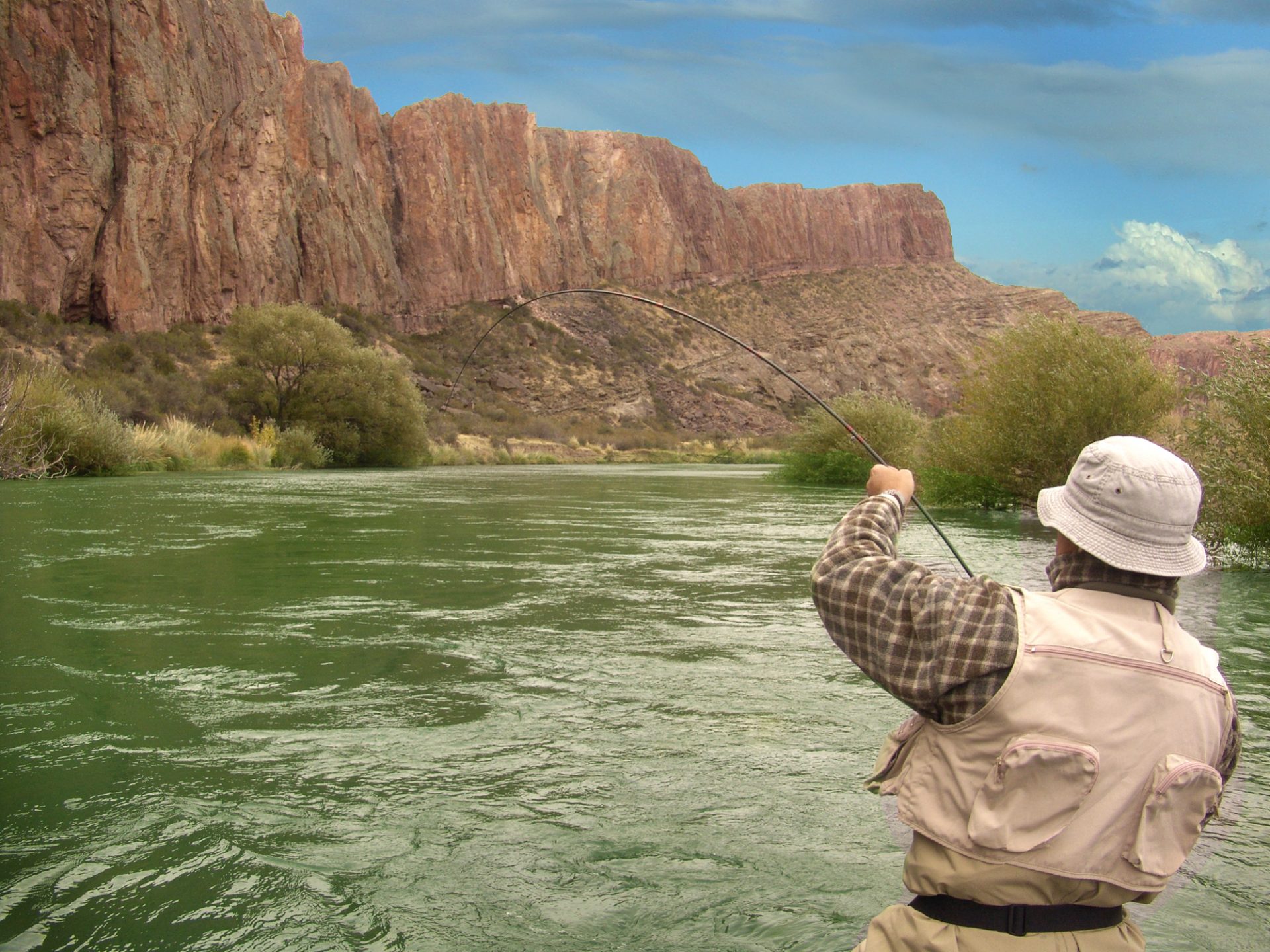 Santa Cruz
In the province of Santa Cruz, Santa Cruz River is well known for its population of steelhead trout, great variety of rainbow trout of great size and strength. Rivers Coyle, La Leona, Rubens, Penitent, Jeinimeni, Los Antiguos and Los Gallegos offer also trout fishing. In Argentino, Roca, Viedma, Cardiel, Buenos Aires, San Martín, Pueyrredón, Posadas, Strobel and Ghío lakes species like salmon, rainbow trout, lake trout and brown trout are also found.
Tierra del Fuego
Brook trout, landlocked salmon, rainbow trout, sea trout (seatrought) and brown trout are species caught in the north of Isla Grande and especially in the city of Río Grande, considered the "International Capital of Trouts". Some alternatives also are the Río Grande, Ewan rivers and Menéndez river; Bombilla, Suderland, Palacio, Margarita, Santa Laura, San Ricardo lagoons and Escondido and Fagnano lakes.