Extremely beautiful lakes, crystal clear rivers, channels in the end of the world and the spectacle of the Atlantic Ocean are some of the varied options available when sailing along Patagonia Argentina. Launching from colourful ports and piers, the Patagonian water bodies give the chance to see uniquely beautiful landscapes, tall and mythical snow covered summits, amazing glaciers, a wide variety of birds or getting close to unique seaside wildlife. Sailing Patagonian waters also allow the discovery of the most diverse beaches, hidden islands and farms, magical forests and even the chance to visit the remote and inhospitable Antarctica. Once on dry land, first class services and accommodation, delicious regional cuisine and exquisite wines invite travelers to enjoy the best Patagonian days. 
Deep blue waters and magic forests
In the provinces of Neuquén and Río Negro, excursions that navigate on Nahuel Huapi lake depart from Blest Port, located at 25 km from San Carlos de Bariloche. These excursions invite tourists to visit Victoria Island and be fascinated by the spectacular images of Anchorena Bay and the landscape surrounding the Hotel Llao Llao. Walks by Gross Port to reach Del Toro beach, navigations along the Blest arm of Nahuel Huapi lake to view Sentinel Island Lake and reach Cántaros lake surrounded by Valdivian forests, permit visitors to discover incredible views of Patagonia. The intense green waters of Mascardi lake, also in Río Negro, lead to the viewpoint of Ventisquero Negro and to a pathway along the forest to visit the Saltillo de las Nalcas waterfall. The international crossing of the Andean Lakes is another option that combines navigation with overland routes, until reaching Montt Port, in Chile. To visit Negro river, one of the largest rivers in Argentina, trips by Curru Leuvú II Catamaran, boats and other navigation ships include several excursions that depart from the boat dock located at Viedma city.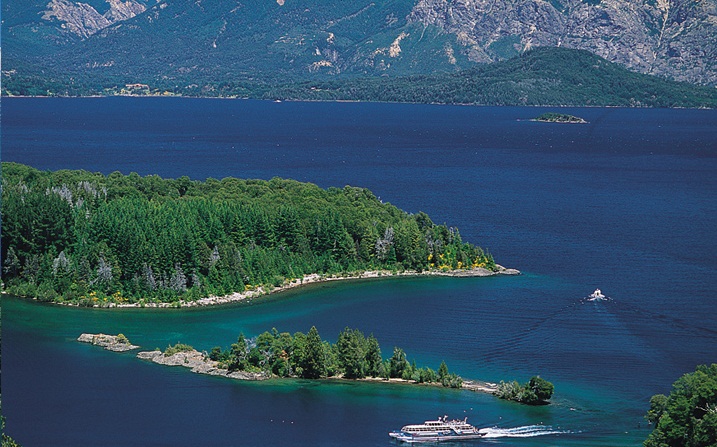 A collection of navigable lakes
In the province of Neuquén, Patagonian Lakes exhibits all its magnificence. Lacar lake, at the bottom of the picturesque town of San Martin de los Andes, with its striking clear waters, offers many different  trips in modern boats that navigate along the shores allowing the discovery of islands, forests, waterfalls and landscapes of unique beauty. At a few kilometers from Junin de los Andes, Huechulafquen lake proposes boats trips where the imposing Lanín volcano acts as a guide during the whole visit. Located further south to the province of Neuquén, Nahuel Huapi lake offers navigation trips from Mansa bay in Villa la Angostura, which lead to Arrayanes forests by bordering cliffs and Quetrihué coastline. These forests have trees of more than 25 meters long and 300 years old, with trunks of soft cinnamon barks. Surrounded by dreamy bays, Moquehue and Aluminé lakes, at the bottom of the Andean Mountain Range offer tempting walks that combine wonderful landscapes with water sports.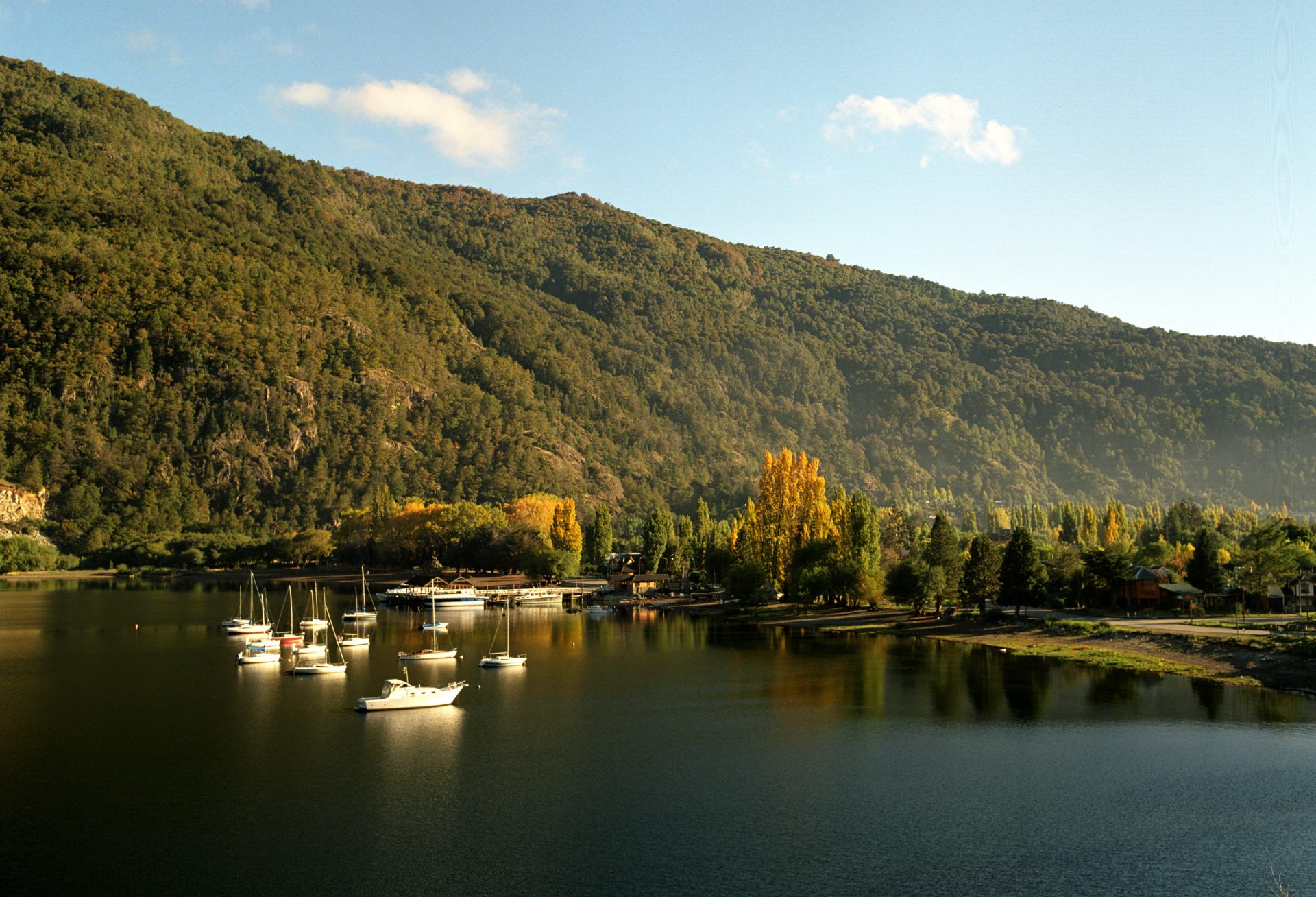 Navigating among giants
Perito Moreno Glacier is located at the province of Santa Cruz, at 80 km from El Calafate and within Los Glaciares National Park. Different boats that navigate along Argentino lake, the largest water mirror in Argentina,  cover the Canal de los Témpanos and reach the imposing glacier. This ice giant features one of the most extraordinary natural spectacle of the region. However, the experiences of ice and beauty do not end with the Perito Moreno. Navigation trips along the northern arm of the lake permits tourist to contemplate the majestic ice giants and the beautiful pre-Andean landscapes of Estancia Cristina. From Bahía Túnel port, at El Chaltén, boats depart towards Viedma Glacier, where visitors will observe Fitz Roy and Huemul mounts and also, after passing Cabo de Hornos, the spectacular variations of blue displayed by Viedma Glacier. Capri, Torre and De los tres lagoons or Desert lake invites visitors to discover the fascinatiing ice and granite landscapes of Fitz Roy and Torre mounts. The Atlantic coast of the province of Santa Cruz offers exciting options to observe wildlife and splendid rock formations in boat trips which depart  from San Julián or Deseado ports and cross waters once navigated by explorers and pirates.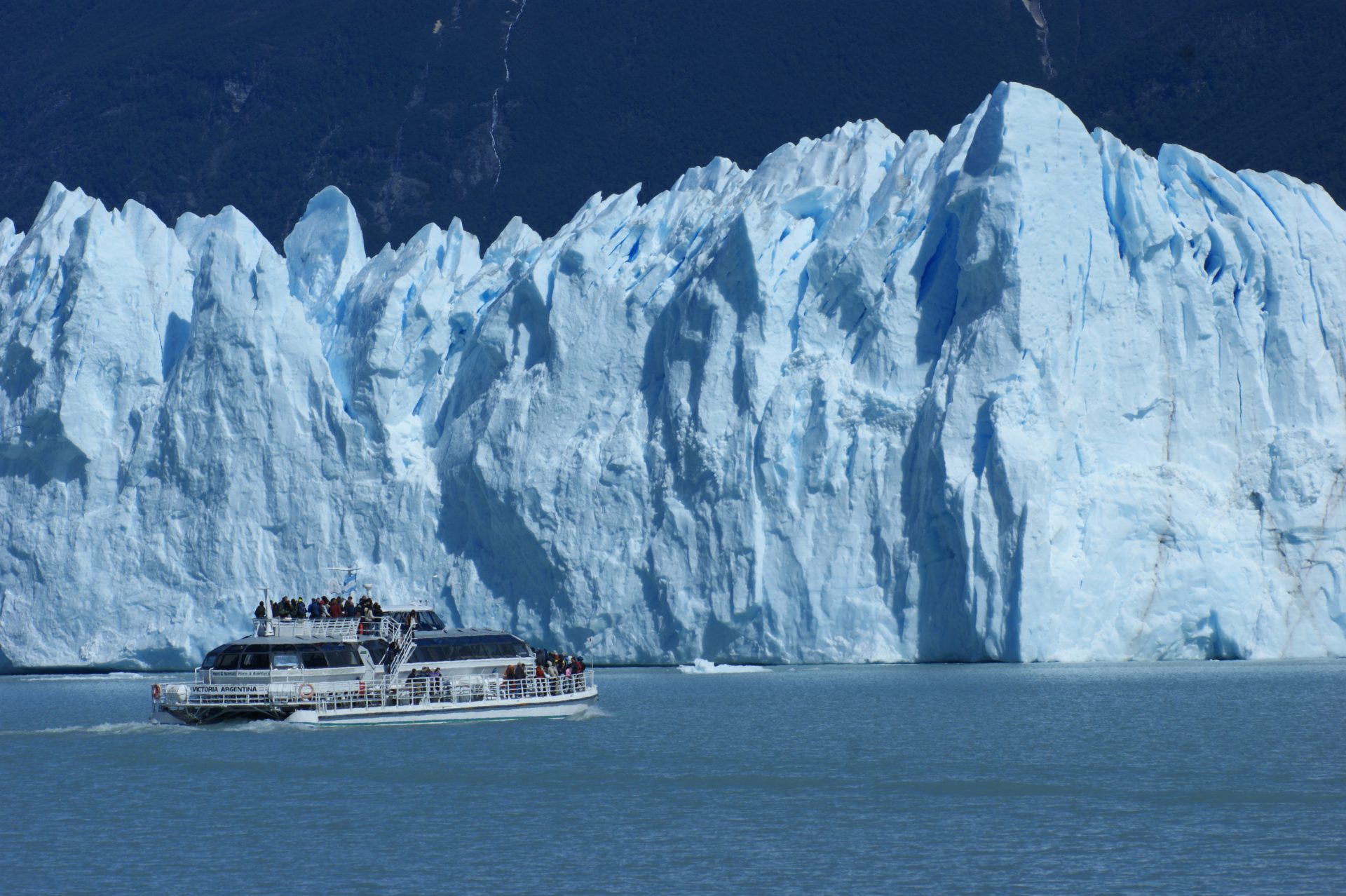 Sea full of life and lakes surronded by millenary alerces
Valdes Peninsula , listed as World Heritage Site by UNESCO, is the departing point for  different boats that go into the sea allowing tourist to practice diving or simply get closer to the touching spectacle offered by dolphins, panda dolphins, sea lions and the giant, amazing southern right whale that arrives to these coasts between June and December to impress tourists. Chubut also offers navigation trips along its Andean lakes and plentiful rivers. 
At Los Alerces National Park, visitors can navigate along Futalaufquen lake and Arrayanes river, which features a magic environment with different species of arrayanes on its shores. At Lago Puelo National Park, navigation trips allow visitors to get close to the Chilean border so as they can observe flora species and enjoy one of the favorite habitats chosen by huemul within the Patagonian forests.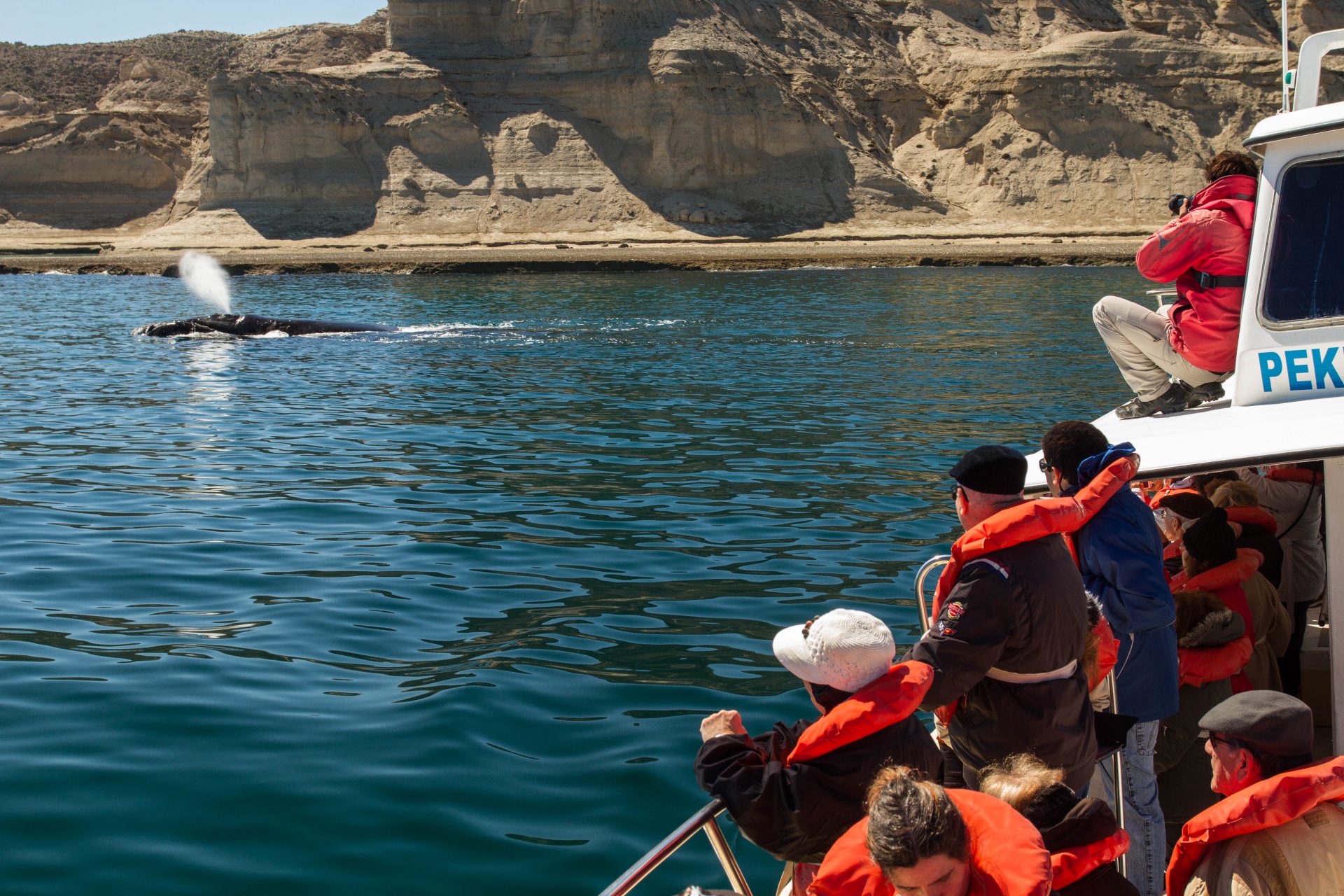 Sailing towards the End of the World
Large cruise ships from all around the world choose Ushuaia as their arrival place. Once there, modern and comfortable ships depart towards world's end dreamy destinations. Multiple trips –which may take from hours to days- navigate the Beagle Channel, offering magnificent views of the southernmost city in the world and a landscape full of sea birds and wildlife, such as sea lions and colonies of imperial, grey and Magellanic cormorants and black oystercatchers. Different paths lead to Birds Island, Isla de los Lobos, Les Islets Eclaireurs lighthouse and Bridges Islands.  Longer trips arrive to the penguin colony at Martillo Island and to the traditional Estancia Harberton. Sea lovers can take expeditions to Isla de los Estados and the mythical Cabo de Hornos, at Tierra del Fuego's eastern extreme. The navigation route to Lapataia bay, departing from Arias port within Tierra del Fuego National Park is another attraction in Usuahia, which allow tourist to visit different bays and islands.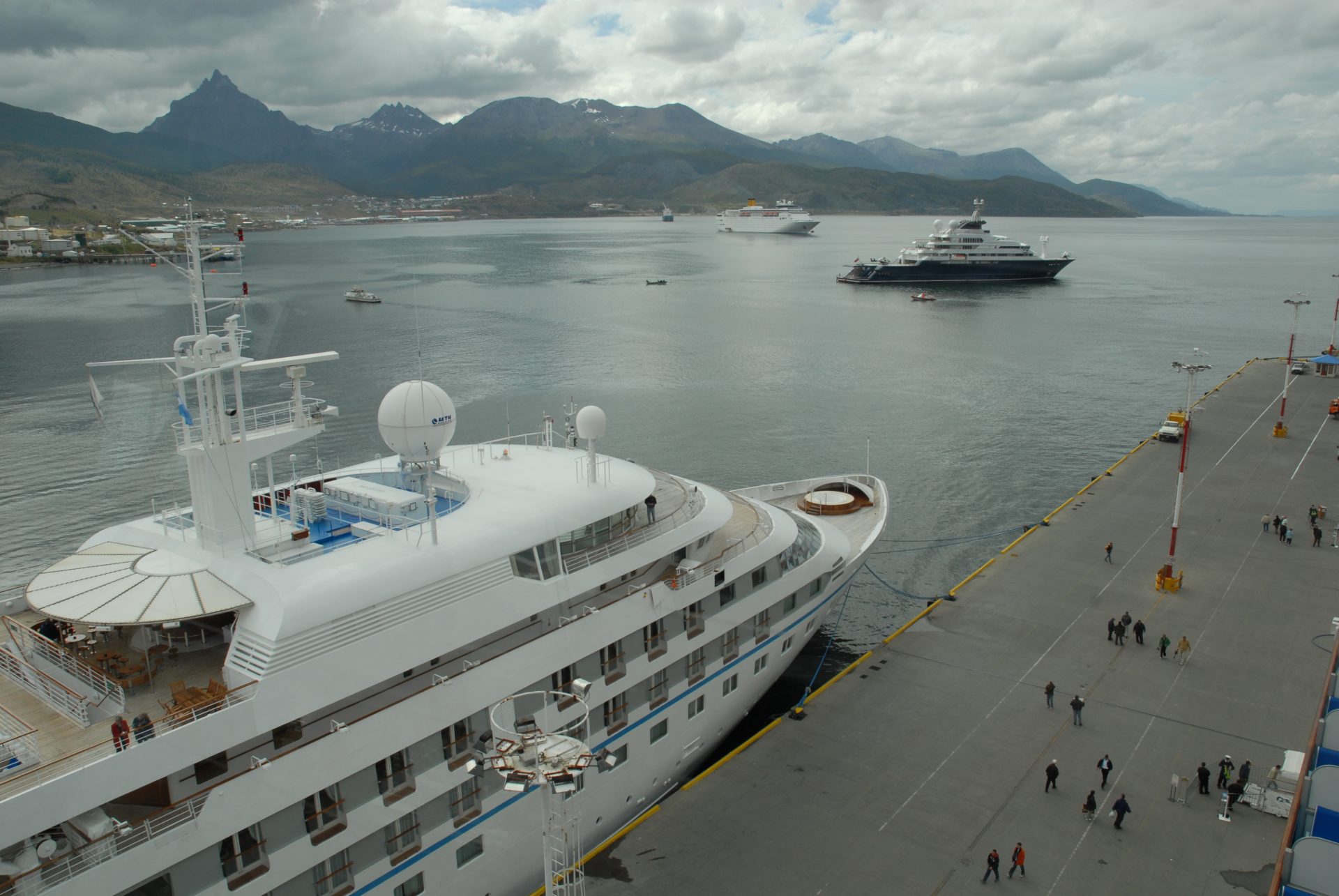 Heading towards Antarctica
Ushuaia's port is also the departing point for cruises that go to the isolated locations of Antarctic continent. Between November and March, after a few days of navigation, these cruises reach Antarctica, an extreme as well as disturbing destination.